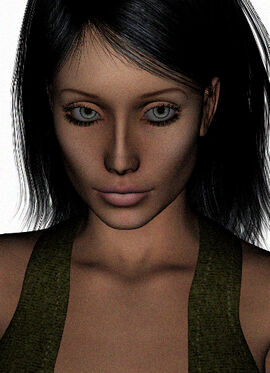 [quote about character]
Background
Edit
Hella was born to Eli and Samantha David on Earth, specifically in Turkey. She grew up being moved around as her father's duties, first as a Lieutenant Commander, then Commander, Captain and finally Admiral, changed. Hella and her father weren't too close as Hella grew up, however when she was a teenager, Eli and Hella became closer while Samantha and Eli began having marital problems.
When she was seventeen, Eli began shopping around for suitors for his daughter. While his priorities were not for his daughter's emotional satisfaction, he wanted to find her a husband who would keep his daughter out of trouble and in line. When she was eighteen, Hella married Jared Fine, a friend of her father's. When he died in 2370, Hella married Maximillian Croft, just the sort of man Eli was against his daughter marrying.
Assisting in her husband's business affairs, Hella didn't have a real 'job' until the arrival of the Dominion, when she took up the duties of Intendant and works as a sort of advisor to the North American Overseer, Keevan.
Personality
Edit
Cold and calculating, Hella is self-serving. She's interested in her success and comfortable survival. While she can have a wicked temper, Hella is often times able to hide it and channel it to more constructive endeavors. It isn't often that she loses her temper.
Relationships
Edit
Jared Fine
Edit
In Hella's past, she made it a point to rarely get seriously involved. However, her father introduced her to Admiral Jared Fine. Shortly after meeting they married in 2364 when Hella was only 18 years old. The admiral, who was 24 years Hella's senior, died due a genetic disorder passed down through his family. This was in 2370.
Maximilian Croft
Edit
Hella had met 'Max' in 2368. A mutual attraction soon developed between them, though their relationship was kept quiet until the Admiral's death in 2370. That same year, the two were married.
Hella and Maximilian have no children yet.
Hella David (pronounced Da-veed) was born to Eli and Samantha David. She has one sibling born in 2370, he's only four years old.
Played By
Edit
This character is played by Lilly.